Pete & Paulie 
"He Began to Send Them Out Two by Two..."
Let us introduce you to Pete and Paulie, our braggadocio but lovable evangelists that are able to break down the details of our faith in a fun and self deprecating way.
If you figured out where their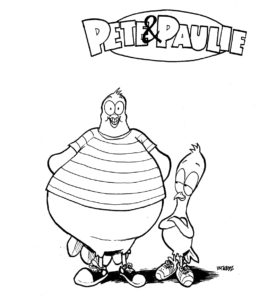 names came from, you probably guessed right. While they might not have all the answers, we can learn plenty by watching how this odd couple works together to figure out truths and non truths about the Catholic Church and come to appreciate why Catholics believe what they believe and do what they do.
On another note and point of sensitivity, please don't tell them that they are pigeons because they really think that that are graceful and beautiful doves (no joke).  These adorable jet setting urbanites, live in New York City and spend their day in and around St. Patrick Cathedral "snooping" around.  Always with clever ideas to evangelize and to share the faith,  they act as our tour guides (as well as our conscience) to show our readers around Central Park, Union Station, Empire State Building and Yankee Stadium (just to mention a few places).
Boy do they have stories to tell!  You will find many of their adventures in our Sit Stand Kneel book series.  Don't miss a bird dropping of their tales, stories and adventures as they make learning the faith fun, entertaining and exciting (for all ages).