Worthy Brothers: Here are just seven reasons why your State Officers green-lighted this program to roll-out to every council.
It positions the Knights to integrally assist our pastors with a laser focus on Mass Attendance.
It quantifies our "corporate communion" efforts to lead our families and faith communities as Men of Faith!
It provides a low cost, high-impact engagement device for the Knights to interact with the faith community.
It empowers Knights to truly lead behavioral change by setting the example with consistent on-time Mass attendance.
It serves as a dynamic support program to help methodically implement fully Faith-in-Action program activities.
It nurtures our solidarity with our priests and religious enabling them to get the flock back on task.
And, it is easiest plan to implement yet has an unquestionable value for our pastors and for our parish communities.
Download the full COUNCIL Step-By-Step LAUNCH PLAN manual by clicking on the PDF to the right.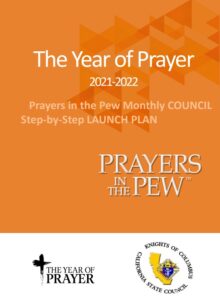 In the spirit of our great patron saint, Junipero Serra, let's engage ourselves in the work of getting people back to Mass  – ¡Adelante siempre!